Designed in accordance with FIFA/UEFA guidelines, the SYMI Sport Seat is the best solution on the market. This 100% Portuguese product, as well as being hard-wearing and long-lasting, has an innovative and ergonomic design. It adapts to the needs of fans and sports clubs due to its comfort and anti-vandalism properties.
Advantages of the Sport Seat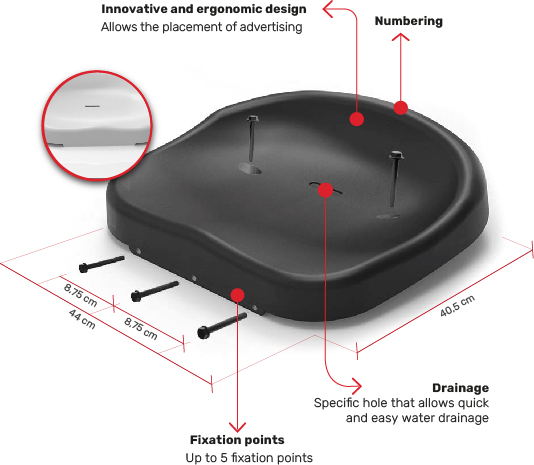 Safety
The great innovation in the world of grandstand seating is SYMI's 5 fixing points. It's almost impossible to pull it out of the stands… so no more seats flying around sports grounds! This is a valuable anti-vandalism feature and a great economic advantage for owners.
Resistant
With fire retardant additives and reinforced anti-vandalism fixations, SYMI® is the most resistant seat on the sports market.
Durability
Thanks to the specific hole for water draining, this seat provides a longer lifespan.
Versatility
With its specific space for numbers and advertising, this is the sport seat for indoor and outdoor sports venues.
Stability
Polypropylene seat with UV stabilizer (own formula).
SEE SEATS IN OUR PORTFOLIO
These seats are customisable and offer multiple choices in the colour and marking of the sports lines, making it possible to advertise directly on the floor itself.
PHYSICAL PROPERTIES
Fluidity Index (230º; 2.16kg):
ISO1133 – 3.5 g/10 min
Density: ISO1183 – 0.905 g/cm³
MECHANICAL PROPERTIES
Modulus of Elasticity: ISO 178 – 1200 MPa
Izod impact test (with detail, 23ºC): ISO 178, 18 kJ/m2
Izod impact test (with details, -20ºC): ISO 178, 60 kJ/m2
THERMAL PROPERTIES
Vicat. temperature: ISO 306/A – 140º
OTHER
Shore hardness: ISO 868 – 65 on Scale D